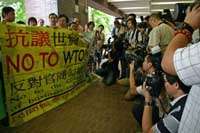 Rocky start to WTO dialogue
Protesters swarmed WTO director- general Pascal Lamy's car outside Hong Kong University Sunday in what could be a sign of things to come between
anti- globalization protesters and free-trade proponents.
Doug Crets and Kevin Rafferty
Protesters swarmed WTO director- general Pascal Lamy's car outside Hong Kong University Sunday in what could be a sign of things to come between
anti- globalization protesters and free-trade proponents. The protest came during efforts to open a dialogue between World Trade Organization officials and non-governmental organizations.
Towards the close of the NGOs Roundtable Forum at the university's Rayson Huang Theatre – meant to foster communication between dissenters and the WTO – protesters stood up with signs alleging government collusion with big business. They also demanded that industry chief John Tsang, who will chair the WTO negotiations in December, meet with NGOs.
Mung Siu-tat of the Hong Kong People's Alliance on the WTO shouted in English and Cantonese demanding a meeting with Tsang.
"Mr Tsang, we have waited for over a year. We have written to you and you have ignored us," Mung declared.
Tsang responded that he would "consider it, but you are supposed to be civil society, so you must be civil. I will not negotiate under duress."
When the protesters refused to sit down, the meeting was brought to an end and Tsang and Lamy attempted to leave.
But protesters – as angry at Tsang as they are at the WTO – chanted "Shame to Tsang" as the pair headed for their waiting vehicles.
Tsang quickly left in a separate car, but Lamy was stalled for about 10 minutes outside the theater by peaceful and mostly good-natured demonstrators who swarmed around his vehicle holding bright posters calling for an end to the WTO.
Lamy reacted by getting out of the car and meeting the demonstrators. He said he would receive their petition. It actually took a few seconds before the lead demonstrator could come forward with his petition.
Lamy smiled and shook hands all round, accepting letters and protest notes.
Just before he got back into his car, he paused and asked if anyone else wanted to hand him a petition or protest. Then he smiled again and waved as university security guards helped part the crowd so he could drive off.
Tsang, who was the real target of the demonstrators, missed Lamy's smooth performance.
The NGOs complained bitterly that they had been pleading for a year for a chance to meet Tsang and he had not responded.
WTO officials flew from Geneva on Saturday to attend the forum, organized by WTO officials and the government's Trade and Industry Department, which is coordinating the sixth ministerial conference to be held from December 13-18.
The forum gave NGO representatives and the public a chance to speak their minds about the WTO and its effect on Asian economies.
The panel included: Chong Chan- yau, executive director of Oxfam Hong Kong; Elizabeth Tang, chairwoman of the Hong Kong People's Alliance on WTO; Professor Richard Wong, deputy vice-chancellor and chair of economics at Hong Kong University; and Eden Woon, chief executive officer of the Hong Kong General Chamber of Commerce.
For nearly two hours, anti-globalization representatives and government officials talked past each other on subjects ranging from lack of democracy in WTO talks to officials' attempts to correct the perception that free trade is harmful.
In one exchange, a Filipino migrant worker charged that the WTO was partly to blame for Filipino peasants living in poverty.
————————————————————————-
http://www.thestandard.com.hk/news_detail.asp?we_cat=4&art_id=3589&sid=5025219&con_type=1&d_str=20051017
WTO meet `make or break' for trade
Pascal Lamy, director general of the World Trade Organization,
warned in
two separate speeches in Hong Kong Sunday that the meeting in
the city in
mid-December would be the critical make-or-break few days for the
future
of world trade.
Kevin Rafferty
Monday, October 17, 2005
Pascal Lamy, director general of the World Trade Organization,
warned in
two separate speeches in Hong Kong Sunday that the meeting in
the city in
mid-December would be the critical make-or-break few days for the
future
of world trade. If ministers leave Hong Kong without agreeing on at
least
two thirds of the agenda on critical issues like agriculture, industrial
tariff reduction and services, then the world can probably say
goodbye to
trade gains of hundreds of billions of dollars that the so-called Doha
Round is seeking to achieve. Lamy cited a figure of almost US$600
billion
(HK$4.68 trillion) as the benefit from a reduction in tariff barriers by
just one third. In the afternoon Lamy, wearing jeans and a T-shirt,
spent
three hours laying out his stall to several hundred representatives of
nongovernment organizations. In the evening, wearing a suit and
smart tie,
he spoke to a packed house at the Foreign Correspondents Club. He told
both audiences that the Hong Kong meeting is critical because the US
mandate for its trade promotion authority expires at the end of June 2007.
This means that the US president must send a Doha agreement to Congress in
early 2007. Working backwards, there is so much technical work to be done
in translating promises into binding agreements that unless the deals are
struck before or during the Hong Kong meeting, the Doha Round will be dead
in the water. Lamy was eloquent on the virtues of trade, but his words
fell on largely deaf ears. To Lamy, trade is the essential fuel for
development and prosperity. "Locally, the enhanced competition created by
trade stimulates innovation, keeps prices in check and can lead to the
creation of new jobs. "Globally, trade facilitates the more efficient
allocation of resources and increases overall welfare gains. The evidence
is overwhelming that nations which are open enjoy higher economic growth
and levels of development than those that are closed. And it is an
irrefutable truth that no poor nation has ever become rich without trade,"
he declared. If you seek a monument to trade, look around, Lamy added,
"From its somewhat humble origins as a fishing village and fortress, it
[Hong Kong] has emerged as one of the world's great cities," thanks
largely to trade. "Incredibly," he noted, the gross domestic product of
Hong Kong – US$234.5 billion in 2004 – is exceeded by both gross exports
(US$268.1 billion) and gross imports (US$275.9 billion). To many of the
NGOs, the WTO is to blame for all the world's ills, from hungry farmers to
the march of greedy multinational corporations. Elizabeth Tang ,
chairperson of the Hong Kong People's Alliance on WTO, was on the panel
sitting next to Lamy and called for the abolition of the WTO. "The WTO in
its 10 years of existence, has done more damage than good to people in
both developed and developing countries. "Farmers are forced into suicide,
as many of them literally die of hunger from loss of land and livelihood
because of policies like the Agreement on Agriculture. Studies also reveal
that since China's accession to the WTO, the average income for rural
households decreased by 1 percent and for those people in the poorest
bracket, it decreased 6 percent," Tang argued. Her position was supported
from the floor, including domestic helpers and construction workers from
the Philippines who claimed they had been forced abroad by trade policies
to work in wretched jobs in Hong Kong. Lamy protested that the WTO could
only help secure the potential gains from trade. It was not in the
business of distributing those gains, which was where governments came in,
since they possessed the votes in the WTO. Lamy noted that he had always
been prepared to meet with NGOs and admitted that "sometimes" he was
prepared to change his position because of good arguments by "some NGOs."
The deal for an agreement on export subsidies for agricultural products by
rich countries is on the table. If an overall deal is reached these
subsidies will be "e-lim-in-ated", said Lamy, pausing on each syllable to
make the point. He refused to give a percentage to chances of a Hong Kong
deal. He and John Tsang used flying metaphors. "Pascal is the pilot of the
plane," said Tsang. "We have offered to provide an intermediate landing
place on the way to its final destination." Lamy's use of a flying
metaphor was to warn that no one should expect to get everything, but
small deals would not fly. "It's like a plane, you need some speed to fly.
You can reduce speed, but there comes a zone where the speed is
insufficient to give you the lift you need and – BOOM – you fail." His
hope is that momentum is now gathering: "Last week in Zurich and Geneva we
saw real commitment on the part of ministers. We saw constructive
proposals and real numbers in the area of subsidy reduction and some
numbers of tariff cuts which should allow real negotiations to start. Not
everyone will agree with these proposals, but everyone agrees that they
are serious and constructive … I fly back tonight to prepare for
ministerial meetings this week which will hopefully bring us closer to
accord on market access improvements in agriculture which we need to
unlock the rest of the negotiations."
————————————————————————–
—- http://hongkong.scmp.com/hknews/ZZZBU19ETEE.html South China Morning
Post – Monday, October 17, 2005
Activists confront new WTO chief
ANDY CHENG
Activists try to steal the limelight from Elizabeth Tang, Pascal Lamy,
John Tsang and moderator David Dowell (right to left). Picture by Dustin
Shum
Pascal Lamy, the WTO director-general, yesterday fielded questions from
anti-globalisation activists who contended that free trade does not
benefit the poor. Representatives from more than 30 non-governmental
organisations gathered at the University of Hong Kong for a forum with
officials from government and the World Trade Organisation. Among those
present were Indonesian domestic helpers, farmers from the mainland,
Filipinos and local union activists. "The WTO's core business is not
distributing welfare. The WTO's core business is creating wealth," Mr Lamy
said in response to accusations that the WTO had made life worse for the
poor. Mr Lamy, who left last night after a two-day visit, said that if
discussions went smoothly in the December WTO meetings in Hong Kong,
export subsidies provided by the United States and Europe to farmers would
be eliminated. Activists from the Hong Kong People's Alliance on the WTO
staged four protests throughout the roundtable forum, which was held in
the lead-up of the WTO meetings in the city in December and attended by
148 trade ministers. After protesting before and during the meeting
activists blocked Mr Lamy's car when he tried to leave. Elizabeth Tang
Yin-ngor, chairwoman of the Hong Kong People's Alliance on the WTO, said
the protesters had not planned on blocking Mr Lamy's car. She said Mr
Tsang had promised her he would receive letters from the activists, but
did not do so, which angered the activists. After he realised his car was
blocked in, Mr Lamy got out of the vehicle to receive the petitions from
the activists.