Friday, May 31, 2019 /Kosai, Shizuoka Prefecture and Toyohashi, Aichi Prefecture
By Galileo de Guzman Castillo
Today, around noontime when the sun is highest in the sky, the Peace March was handed over from Shizuoka to Aichi Prefecture. The handover signaled the beginning of the Aichi Peace March, as peace marchers from Shizuoka arrived at Kosai City Seibu Community Center and were welcomed by different Aichi peoples' movements. It was a surreal feeling to meet the Shizuoka marchers and an honor to continue the heiwa koshin (peace march) from here on until the end of the Aichi Peace March on June 11 and the succeeding handover to Gifu Prefecture. I was also introduced to Charley Sta. Maria, a fellow Filipino NGO worker and the International Youth Relay marcher for Shizuoka. It is both our first time in the Land of the Rising Sun.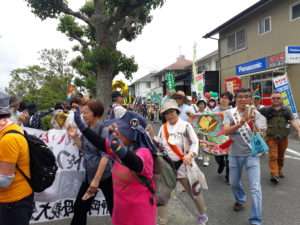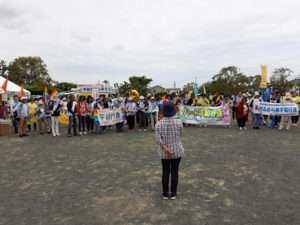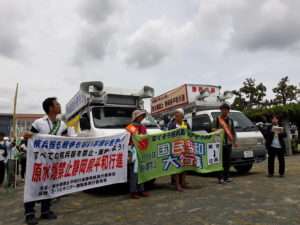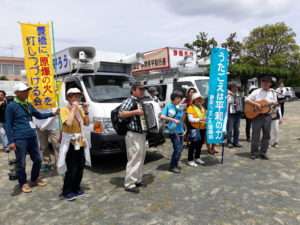 SOLIDARITY FOR PEACE. Clockwise from top-left: Shizuoka marchers arrive at Kosai; Handover program; Japanese cultural activists offer songs of solidarity; International Youth Relay marcher Charley Sta. Maria (with white bandana).
In the handover program, Charley said that while countries around the world have armed forces, we (peace activists) are all soldiers, too… "soldiers of peace and our weapon is love." I also had the opportunity to listen first-hand to the different stories and experiences of the Hibakusha (atomic bombing survivors). Shoji-san, 87 years old and a retired professor of physics, was only 13 years old when his family's home in Hiroshima (1.4 kilometers from ground zero) was destroyed during the Second World War. At a young age, he saw his mother die from the bombing.
As we began walking towards our final stop for the day, Sakuragaoka High School, I asked Shoji-san (with my broken Japanese) what heiwa means for him. He said: "Peace means the abolition of all nuclear weapons, peace means a world with no military structures, peace means a happy world for the future, for our children."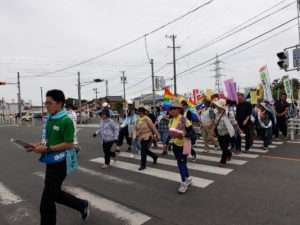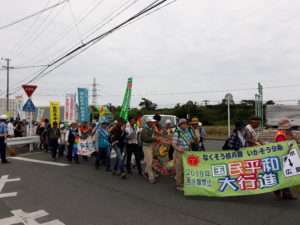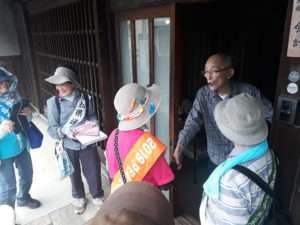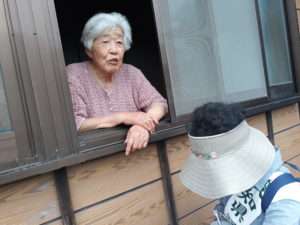 NEW BEGINNINGS. Top-left and top-right: The Aichi Peace March commences; Bottom-left: Peace marchers meet with Tamura-san, a Hibakusha, at the Toyohashi City Futagawa-Shuku Honjin Museum; Bottom-right: Obaasan (grandmother) gives her support to the heiwa koshin signature campaign and gives a generous donation of 5,000 yen (US$46) to the Peace March.
As the sun sets and after more than 30,000 steps (25 kilometers), we finally reached Sakuragaoka High School, home of the eternal flame from Hiroshima (see caption of introduction photo). The first day of the 13-day Aichi Peace March concludes, with the hope and promise of unwavering cooperation and steadfast solidarity among all peace-loving peoples and movements.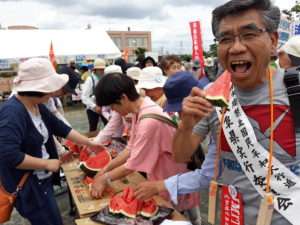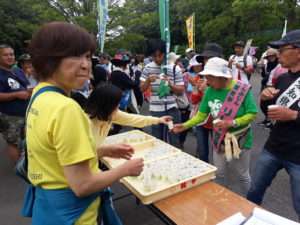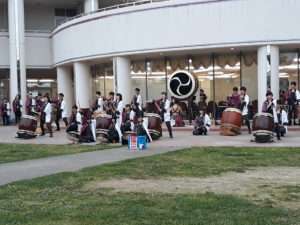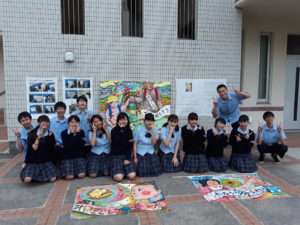 SOLIDARITY FOREVER. Top-left and top-right: Workers from the union of consumer cooperatives express their solidarity and support by providing refreshments to rejuvenate the peace marchers; Bottom-left: High school students of Sakuragaoka welcome the Aichi and Shizuoka marchers with a resounding drum and flute performance; Bottom-right: With canvass art drawn by Filipino artist-activist A.G. Saño and painted by Japanese children.