Saturday, June 1, 2019 Toyohashi and Gamagori, Aichi Prefecture
Text and Photos by Galileo de Guzman Castillo
We walked about 34 kilometers today from Toyohashi City Hall to Gamagori City Hall to meet with local government officials and receive solidarity messages from the mayors, councillors, and members of the parliament. Some representatives and leaders of the Japanese Communist Party also marched with us.
In a way, it made me reflect on how we organize mobilizations back in my home country, the Philippines. It is different in the sense that we have not really explored engagement with the government that much as most of them are products of a flawed electoral process and a broken party-list system that breeds and puts political dynasties and elite families into power. You can count on the fingers of your one hand the number of remaining progressive and pro-people representatives and government officials in the Philippines.
Notwithstanding, I understood the importance of engaging the local government as it is the unit that is closest to the people and the communities.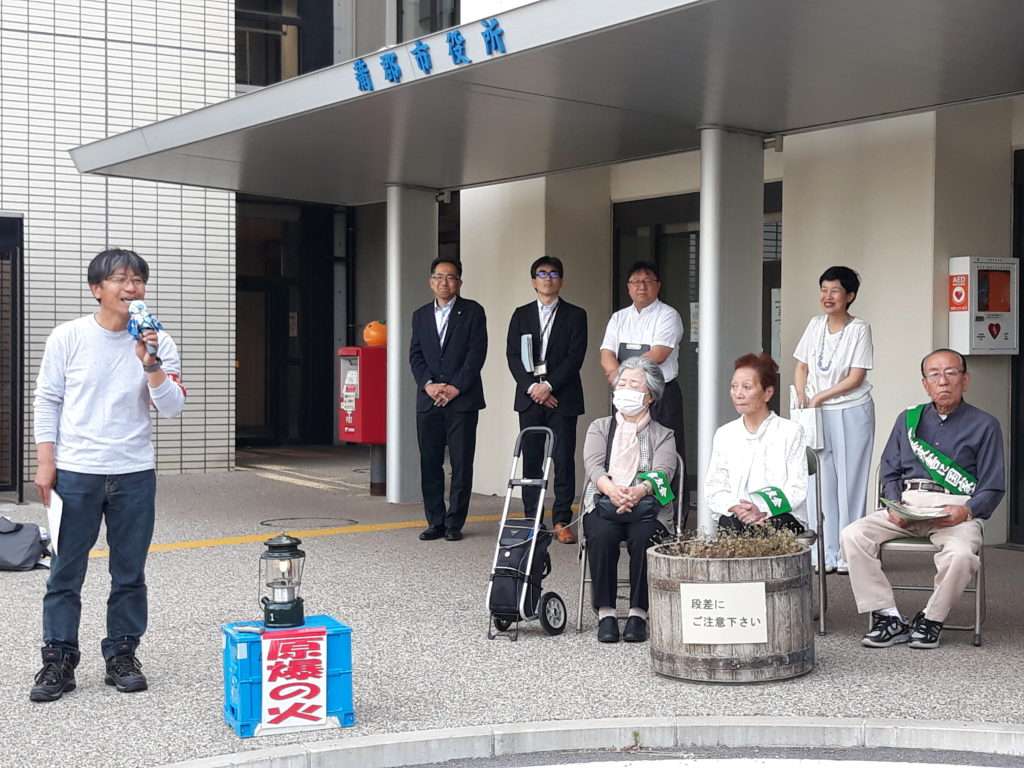 I also met different people today with different stories and experiences coming from different backgrounds who all likewise met each other at the Aichi Peace March.
Ooishi-san, 90 years old, former worker at a Kaigun Kosho (Naval Arsenal Factory) owned and operated by the Imperial Japanese Navy back in the Second World War reminded the people to never forget the horrors of war and that there is no place for military structures and industrial arms factories in a peaceful world.
Harada-san, a Hibakusha (see Gamagori photo above, seated rightmost; note: the two women sitting beside Harada-san are also atomic bombing survivors) witnessed many people go sick and die after the bombing of Hiroshima and Nagasaki. At a tender age of three years, he saw both of his parents die. While he was only in kindergarten when the bombing happened, his vivid memory of the sick and the dead and the consequences of war serves as a reminder to everyone of the necessity to collectively call for justice for the Hibakushas and to never forget what happened in 1945.