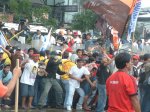 The protest rally of over 5,000 people spearheaded by Laban ng Masa was violently dispersed today along Edsa, the site of the People Power Revolution that ousted dictator Ferdinand E. Marcos exactly 20 years today.
The protestors, who assembled earlier in Quezon City were en route to join others who have assembled at the people power monument in EDSA, when they were block by around 200 riot policemen armed with truncheons, water cannons and long firearms.
Laban ng Masa leaders Francisco Nemenzo (former President of the University of the Philippines), Professor Randy David, and several members of the House of Representatives including Rep. Riza Hontiveros-Baraquel, Mario Aguja of Akbayan Citizens Action Party, and Rep. Renato Magtubo of Partido ng Manggagawa were in front negotiating with the police when the violence erupted. The protestors were pushed back with the use of truncheons and water cannons. Some protestors fought back by throwing rocks amidst calls from fellow protestors for restraint.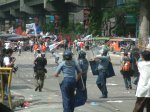 In the aftermath of the dispersal several protestors including Professor Randy David, Ronald Llamas, RG Guevarra were arrested and detained at Camp Caringal. Accused of throwing rocks, which started the violence, the other protestors arrested include Noel de Mesa, Christian Ocampo,Ludynela Hamor, Mishil Turla, Rachel Pineda, Emma Tuyo, Amelia Tayag, Jonnel Fortaleza, Maureen Alraniel, Cherry Aquino, Roel Arabejo, Eduardo Fernandez, Roel Manhangin, Bayan Flores, Leodil Ungriano, Edwin Intal, Abel Bagasala, Rowena Manhangin, Lea Orioke, Analyn Orioke, Lorna Seprioto, Nida Adriano and Herbert Docena. Those detained are from Kilusan para sa Pambansang Demokrasya, League of Urban Poor Associations (LUPA), Makabayan, Sanlakas, and Focus on the Global South. Some minors and women were also beaten up badly by police. And police roughed up arrested. After hours of illegal detention, the 24 activists were released but David, Llamas and Guevarra decided to stay imprisoned as a sign of indignation and to question state of emergency rule. There is also another group of protestors (42 in all) who were detained in Camp Caringal since 9 am. A number of them are children, some below 10 years old.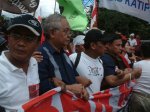 A state of National Emergency or Proclamation 1017 has been declared by Gloria Macapagal Arroyo. The emergency rule gives the military and the police the power to arrest and use force against whosoever they perceive as 'enemies'. There are now threats of more political repression and curtailment of peoples' rights. And the situation is bound to get worse. Opposition Senator Aquilino Pimentel has called for an emergency session of the Senate to look into the latest actions of Malacanang.
Another group of protestors are currently massing up in Ayala, Makati City as the wave of protests calling for the ouster of Gloria Macapagal Arroyo continues.