Manila, 16 January 2017:
One day after the launching of the Philippine Government's Chairship of the Association of Southeast Asian Nations in Davao City, more than 100 members of the newly-formed national organizing committee of the 2017 ASEAN Civil Society Conference/ASEAN People's Forum (ACSC/APF 2017) trooped to the Department of Foreign Affairs in Manila. The civil society network engaging ASEAN delivered to the Philippine Government its collective statement reflecting people's aspirations for ASEAN.
Civil society organizations representing various sectors in the Philippines united under the NOC of the ACSC/APF2017 to amplify grassroots people's voices in asserting human rights, democratization, and economic, social and ecological justice in order to realize a just, equitable, and humane Philippines and Southeast Asia.
"As Chair and host of ASEAN 2017, the Philippines is faced with a unique opportunity to chart a new and more relevant course for the 50-year-old regional organization that will truly benefit its peoples. This entails meeting the challenge of addressing concerns and inadequacies that have hobbled ASEAN since its inception in 1967," said Dr. Eduardo Tadem – ACSC/APF 2017 Philippine NOC co-convener and Freedom from Debt Coalition president.
Tadem, also a professor on Asian studies at the University of the Philippines, enumerated at least nine important issues that the ASEAN must tackle to make it more relevant. These are: (1) lack of popular participation in ASEAN decision-making; (2) rising inequalities between and among member countries; (3) weakening democracies and prevalence of authoritarian governing modes resulting in human rights deficits; (4) dominance of an elite-centered development strategy and the resulting failure to attain inclusive growth; (5) competition rather than complementarity in trade and investment relations; (6) absence of sanctions against rogue regimes; (7) lack of a regional identity and unity; (8) weak social protection for all residents; and (9) prevalence of gender inequalities.
"ASEAN under the leadership of the Philippines must meet these major challenges head-on and take the decisive step of transforming ASEAN into a true people-oriented and people-centered regional organization," said Tadem. He added that the ACSC/APF 2017 comprised of hundreds of people's organizations and social movements across the region, enjoins the administration of President Rodrigo R. Duterte to heed this call.
During the launch of the ASEAN Chairship in Davao City, the President reiterated the importance of the people: He said "Today in Davao City, let us renew the solemn pledge to do all we can for the very core of our national and regional interests: our peoples." Further, he also said "For an ASEAN citizen, the ASEAN Community must provide opportunities for a truly better life. This is a life that has broken the bonds of dependence and ignorance…This is a life that has given opportunities for self-improvement. This is a life that is provided by a society transformed and reformed."
Within this context, Jelen Paclarin who is also ACSC/APF 2017 Philippine NOC co-convener and Coordinator of Philwomen on ASEAN, remarked: "To be true to its words to realize a better life for the people, the Duterte administration as chair of ASEAN must protect and promote the rights, dignity and freedoms of its peoples, especially the vulnerable communities in ASEAN."
For many decades, the Philippines has played an important role in Southeast Asia as a champion of democracy and human rights.
Paclarin who currently heads the Women's Legal and Human Rights Bureau also challenged the Philippine Government to be at the forefront of human rights building in ASEAN and protect the marginalised sectors in the region by strengthening the protection mandate of the ASEAN human rights mechanisms. "Aside from respect for life, an accountable government and adherence to rule of law are needed to realize peace, stability, and growth in the region."
"Nothing about us without us!" and "ASEAN by the people, not only by the States!" – chanted Philippines NOC members Freedom from Debt Coalition, Sanlakas, Dignidad Alliance, Asia-Pacific Resource Network, Focus on the Global South, Initiatives of International Dialogue,Network for Transformative Social Protection, Integrated Resource Development Foundation, ASEAN Youth Leaders Association – PhilippinesAsian Partnership for the Development of Human Resources in Rural Asia, and SPELL.
The Philippines NOC capped their symbolic action by giving "tubaws" to DFA representatives who received their statement. The "tubaws" symbolize the people — the various sectors, communities — coming together, and willingness to partner with the government towards a just, humane, and equitable Philippines and Southeast Asia.
They vowed to pursue their aspiration for apeople-oriented and people-centered region. "We shall continue to demand commitment to and the establishment of mechanisms for meaningful and substantive participation, inclusion and representation of the people in all processes at the national and regional levels without prejudice or restrictions, to ensure the protection of people's rights."
###
The statement is available to download below
Photos by Galileo de Guzman Castillo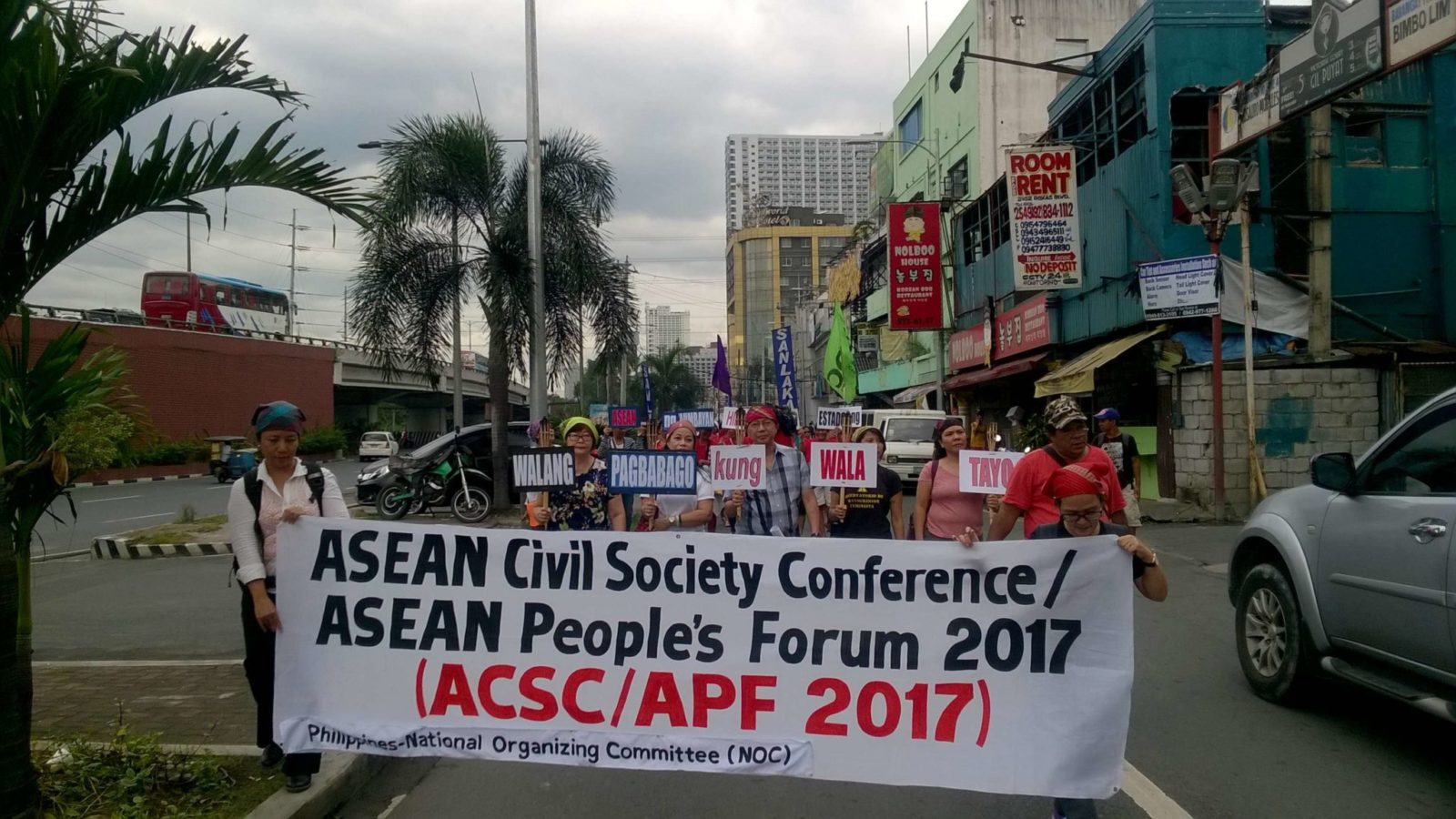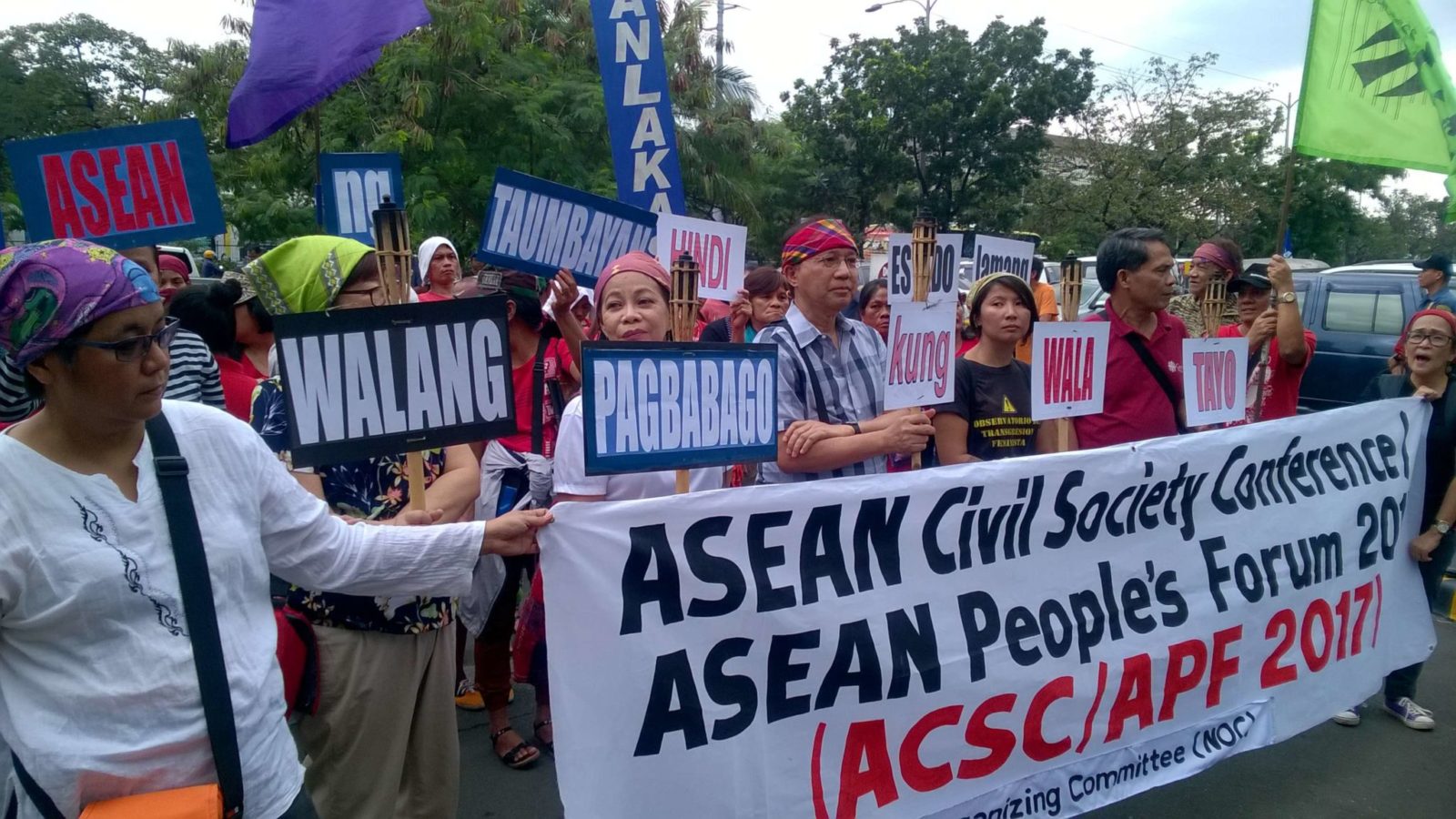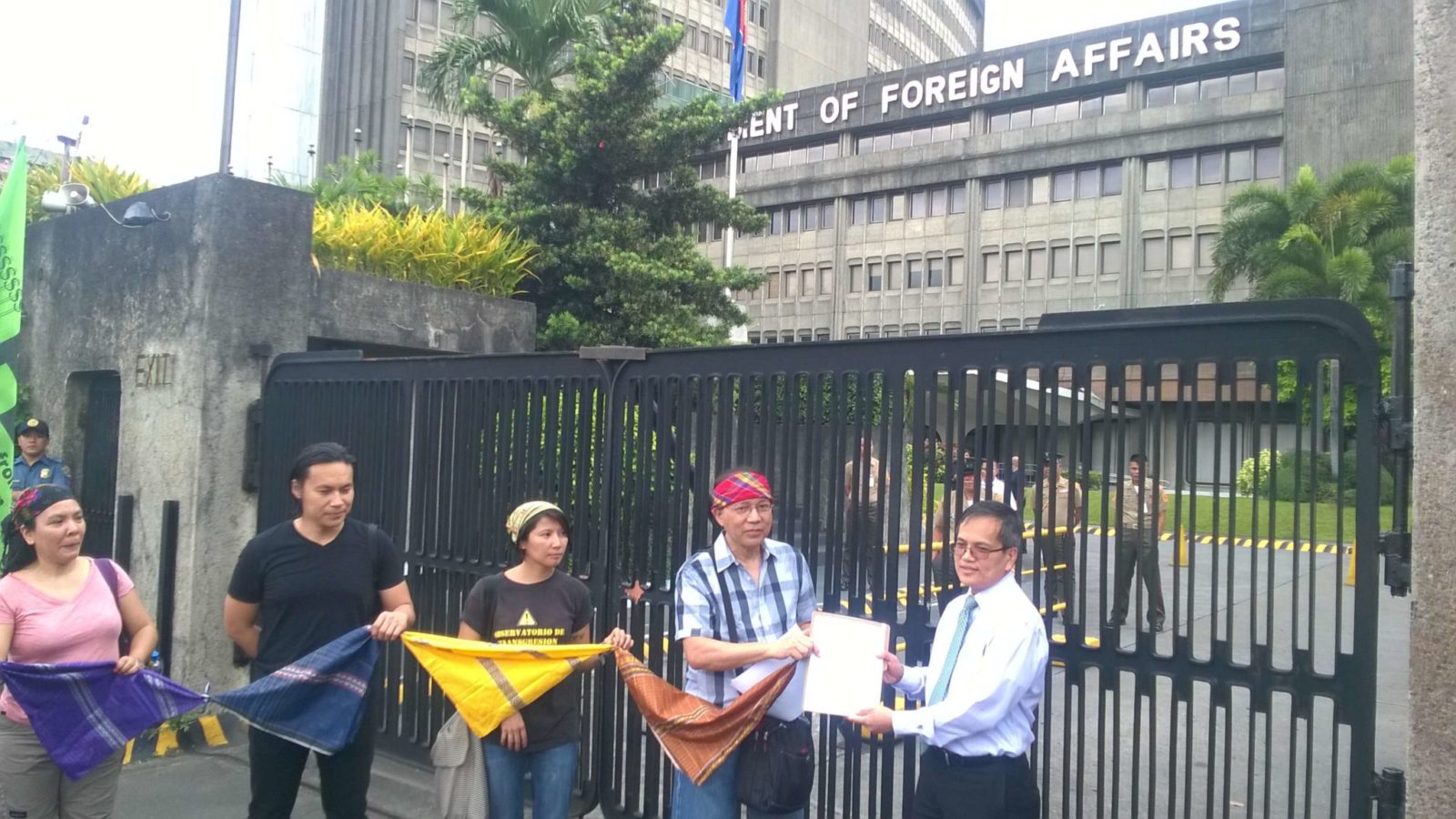 ACSC/APF2017 Philippines-National Organizing Committee (NOC)
Co-conveners: PhilWomen on ASEAN Network, Freedom from Debt Coalition
Members: AksyonsaKahandaansaKalamidad at Klima, AlabKatipunan, Almana, Asian Peoples Movement on Debt and Development, Alliance of Philippine Partners in Enterprise Development, ASEAN SOGIE Caucus, ASEAN Youth Leaders Association – Philippines, Asian Federation Against Involuntary Disappearances, Asian Partnership for the Development of Human Resources in Rural Asia, Asia Pacific Research Network, AryaProgresibo, Asian Solidarity Economy Council – Philippines, Association for the Rights of Children in Southeast Asia, Ateneo Human Rights Center, ASEAN Youth Forum, BagongAlyansaNagkakaisangGabaysaKalamidad at Klima, Buhayna may Dignidad Para saLahat (DIGNIDAD), Buklod ng Manggagawasa Radio Communication of the Philippines, Inc. – National Federation of Labor, BuligVisayas, Center for Environmental Concerns, Center for Energy, Ecology and Development, Center for Migrant Advocacy, Center for Women's Resources, Child Rights Coalition-Asia, Civil Society Coalition on the Convention on the Rights of the Child, Coalition of the Services of the Elderly, Development Alternatives with Women for a New Era, Empower, Fair Trade Foundation Panay, Foundation for Media Alternatives, Foundation for a SustainableSociety, Focus on the Global South – Philippines, Gender Watch Against Violence and Exploitation, Hope for the Youth, Initiatives for International Dialogue, Integrated Rural Development Foundation, International Youth United, Kanlungan Center Foundation, Kilusan Para saPambansangDemokrasya, Magsasaka at Siyentipiko para saPag-unlad ng Agrikultura, Migrant Forum in Asia, Mindanao Migrants Center for Empowering Actions, National Movement for Food Sovereignty, Network for Transformative Social Protection, National Federation of Labor, ProgresibongAlyansa ng mgaMangingisda, Partnership of Philippine Support Service Agencies, Peoples Alternative Study Center for Research and Education in Social Development, PambansangKalipunanmgaManggagawangImpormalsaPilipinas, Philippine Alliance of Human Rights Advocates, Philippine Network of Food Security Programmes, PhilWomen on ASEAN Network, Philippine Movement for Climate Justice, Rural-Urban Peoples' Linkages, SanlakaslKasarian-Kalayaan, Save the Children – Philippines, Strengthening Alliance of Victims for Empowerment from Disaster (SAVED) RIZAL, Sentro ng mgaNagkakaisa at ProgresibongManggagawa, Sustainability and Participation through Education and Lifelong Learning, Tebtebba, UnangHakbangFoundation, WomanHealthPhilippines, World Council for Curriculum and Instruction, Women's Legal and Human Rights Bureau