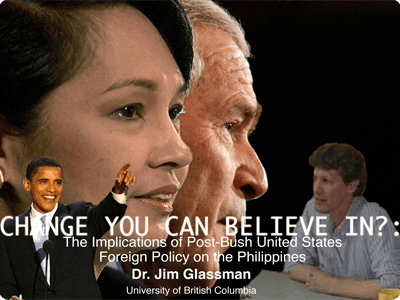 On July 1-4, Focus on the Global South Philippines Programme co-organized with the University of the Philippines Department of Political Science, the Philippine Political Science Association and the Third World Studies Center, a Southeast Asia Lecture Series with Dr. Jim Glassman. The lecture series is part of Focus Philippines' Deconstructing Discourse and Activist Retooling Program which has students and the youth as main target audiences. On Thursday, July 3, Dr. Jim Glassman spoke at a roundtable discussion sponsored by the Thematic Working Group on Foreign Policy of the Development Roundtable Series . Following is the blog entry filed by Alecks Pabico of the Philippine Center for Investigative Journalism on the roundtable discussion.
Of neoconservatives and neoliberals: U.S. foreign policy in post-Bush America
Posted by: Alecks P. Pabico on the PCIJ website | July 6, 2008 at 11:21 a.m.
THAT the eight-year presidency of George W. Bush is finally coming to an end may be comforting a thought to many in light of elections in the United States to choose a new president this coming November. But the choices of American voters, having since been narrowed down to John McCain, the Republican Party nominee, and Barack Obama, the Democratic Party nominee, are hardly offering the rest of the world much hope in terms of any fundamental change in U.S. foreign policy.
Visiting academic Dr. Jim Glassman makes such an assessment in a series of lectures last week before political science students at the University of the Philippines and civil-society groups at the Focus for
the Global South office. Even Obama's campaign promise of a "Change You Can Believe In" does not evoke much optimism in the associate professor of geography at the University of British Columbia in Vancouver, Canada.
View the DDARP's Invite for this event and DRTS' Invite for the lecture series