by Galileo de Guzman Castillo
Rodrigo Roa "Rody" Duterte or DU30, as he's fondly called by his supporters and followers, was elected 16th President of the Philippines last year and is now also the first ever elected president from Southern Philippines. His fixation on domestic policies such as the war on drugs and the insurgencies in Mindanao was honed from his long stint as the "strongman" from Davao, but on matters of foreign policy, including on issues of sovereignty, territorial integrity, and maritime disputes in the region, he lacks experience. Yet he has been crafting the country's foreign policy through his pronouncements, even if often done with brusqueness and profanity.
What has been said and done in as far as the country's foreign policy is concerned? What are the elements and manifestations of the Duterte administration's foreign policy? How should one define an 'independent' foreign policy? Has Duterte been consistent or contradictory with his policy pronouncements and actions? Who have been gaining and losing in the process?
While it has only been a year into Duterte's presidency and much remains to be seen with his administration's evolving foreign policy, unpacking his pronouncements and actions over the last 12 months reveals much incoherence and inconsistencies in Duterte's touted in(depend)ent foreign policy. From Duterte's policy pronouncements, his understanding of an independent foreign policy would seem to revolve mainly around being free from interference in his domestic policies. But while he has sought to be "free" from the US and European Union (EU), he is not loath to turn to other powerful players, just because they may not care too much about human rights—forgetting that these countries have their own geopolitical and economic interests that may impact on our own. Duterte has not wasted time in quickly realigning with powerful countries that he deems as allies, namely China and Russia. At the onset of his administration, it would appear that his in(depend)ent foreign policy depends on several factors—it being contingent on whether a country supports or criticizes his war on drugs, it being conditional as he "breaks free" from the US but hurries under the wings of other rival powers, and ultimately, it being determined and controlled by Duterte's whims and hedging game.
New Allies
Duterte's announcement of separation from the US "both in military and economics" could have indeed signified a fundamental change—the Philippines' rethinking of its almost century-long alliance with its erstwhile colonizer. It may be easy to conclude that the Philippines has truly embarked towards an independent stance, given that Duterte has gone around cursing the United Nations (UN) and the EU when they criticized his bloody war on drugs and raised concerns on human rights, rejecting foreign aid that his administration felt "may allow others" to interfere in the country's internal affairs.
In September 2016, Duterte announced an end to the joint US and Philippine military drills and said that the already scheduled joint military exercises between Filipino and American troops will be the last. A month after, he threatened to scrap the Enhanced Defense Cooperation Agreement (EDCA) and ended 2016 by saying "bye-bye" to America and the Visiting Forces Agreement (VFA) in retaliation to the Millennium Challenge Corporation's deferment of voting to renew aid to the Philippines. The US agency had expressed concerns on rule of law and civil liberties in light of Duterte's war on drugs.
Duterte made very clear his hard-line stance on charting an independent foreign policy for the Philippines right before he left the country for his first official foreign trip to the 2016 ASEAN Summit in Vientiane, Laos, when he said "I would not appear to be beholden to anybody. I only am answerable, again, to the Filipino people who elected me as president. Period. Nobody but nobody should interfere. This is an independent country; nobody has the right to lecture on me. God, do not do it."[1]
It was also in this pre-departure press conference in Davao City International Airport, when asked by a journalist how he would address human rights questions that may be raised to him at the sidelines of the ASEAN Summit (in light of the war on drugs, on the spate of extrajudicial and vigilante killings of suspects, and the emboldened Philippine National Police), that he unabashedly directed a common swear word at then-outgoing US President Barack Obama: "son of a whore," to underline his "separation" from the US. This resulted in a cancelled bilateral meeting between the two heads of state.
Early on, he had turned to Moscow to purchase arms as a result of the cancellation of a deal with the US. And then, at the Philippines-China Trade and Investment Forum in the Great Hall of the People in Beijing last October 2016, Duterte presented a purely dualistic worldview when he said in front of Chinese Vice Premier Zhang Gaoli and hundreds of Filipino and Chinese businessmen, "I've realigned myself in your ideological flow and maybe I will also go to Russia to talk to (President Vladimir) Putin and tell him that there are three of us against the world—China, Philippines and Russia. It's the only way. That's the long and short of it. I want an independent policy na hindi pasunod-sunod (that is not subservient)."[2]
Whimsical and Incoherent
Duterte's evolving foreign policy can be characterized also by a series of contradictory statements and confused policy pronouncements from him and his Cabinet, further highlighted by his flip-flopping on critical issues like the Mutual Defense Treaty (MDT), EDCA, VFA, Balikatan exercises, and military alliance with the US. Despite earlier pronouncements that they would end, the Balikatan joint military drills eventually pushed through in May 2017 with Defense Secretary Delfin Lorenzana persuading the president to allow them to continue albeit with adjustments—no more exercises in the West Philippine Sea/South China Sea (WPS/SCS) and the focus of Balikatan will shift from maritime security and territorial defense to humanitarian aid, climate change, disaster response, and counter-terrorism operations. Neither were the MDT, EDCA, and VFA repealed. Despite Duterte's claim that "the Philippines is not a vassal state," military bases and facilities with presence of foreign troops have remained on Philippine soil and are in fact to be upgraded and expanded according to Lorenzana.
The derailed Philippines-US meeting on the sidelines of the ASEAN meeting in Laos prompted Presidential Spokesperson Ernesto Abella to deliver a clarificatory statement that the administration's "primary intention is to chart an independent foreign policy while promoting closer ties with all nations, especially the US with which [the Philippines] have had a long-standing partnership." Consequently, political security relations with the US remain strong despite changes in the nature of the military exercises, as revealed by the US Special Forces' support to the operations of the Armed Forces of the Philippines (AFP) in the crisis-hit Marawi.
Even so, Representative Jim McGovern declared during the July 20 US Congress hearing on the war on drugs in the Philippines that he would lead the protest should Duterte accept Trump's recent invitation to visit the White House—given his human rights record. Duterte's response was "There will never be a time that I will go to America during my term or even thereafter. So what makes that guy think I'll go to America? I've seen America and it's lousy."[3]
Duterte's pronouncements in his state visit to Beijing also necessitated a quick clarification from his camp, with no less than the country's top economic policymakers finance secretary Carlos Dominguez III and economic planning secretary Ernesto Pernia issuing a joint statement just a few hours after Duterte's speech in China: "The Cabinet will move strongly and swiftly towards regional economic integration. This is why the president prioritized foreign trips to ASEAN and Asia. We will maintain relations with the West but we desire stronger integration with our neighbors. We share the culture and a better understanding with our region."4 There were strong economic motivations to this too because in 2015, total external trade in goods with ASEAN member countries had amounted to $26.705 billion or 20.6 percent of the Philippines' entire trade. This may also explain a budget allocation of 15.5 billion for the ASEAN processes, as the Philippines assumed chairpersonship in 2017 (curiously, 11.5 billion was allocated under the Office of the President).5 In comparison, the budget of the Department of Foreign Affairs for 2017 is 16.5 billion, down by almost 4 billion from that of 2016.
Hedging and Opportunistic
Time and again, Duterte's Cabinet has argued that people should not take his careless statements and policy pronouncements seriously but rather wait for the actions and concrete steps. Duterte himself has tried to convince the public that his "outbursts" at the international stage is in fact a hedging strategy, a diplomatic balancing act that on the one hand may improve political and economic relations with certain countries, but on the other, risks one being branded as "all bark and no bite." Hedging on a supposedly independent stance from global powers, he uses this as leverage against those critical of his domestic policies. His hedging game extends to the ASEAN platform where diversifying of relations with neighboring countries is used to get mandate for his war on drugs.
Some argue that Duterte does not just act on any whim that enters his head but is in fact a "master strategist" who pragmatically makes the best of the cards laid down before him—pursuing bilateral relations with China as it is poised to emerge as a global power, and as the US pushes forward with its isolationist agenda under the Trump presidency—with the "axis of power" shifting to China in its pursuit of a more multilateral agenda. In the face of the decline in huge global infrastructure investments by the US and EU, China has launched the The Silk Road Economic Belt and the 21st-century Maritime Silk Road, also known as the Belt and Road Initiative (BRI) and The Belt and Road (B&R) and funded infrastructure projects left and right with its Asian Infrastructure and Investment Bank (AIIB). The Philippines, though, is not part of the BRI.
According to the Official Gazette of the Philippines, "a crucial component of foreign relations, international travel has always offered an opportunity for the President of the Philippines, in his [or her] official capacity as both Head of State and Government, to foster and maintain relations with other states or meet with foreign dignitaries."6 Duterte's presidential foreign trips in his first year tallies at 21, costing almost 400 million. Comparing this to his predecessors, he has surpassed almost half of Benigno Aquino's 46 trips for the entire six years, surpassed Joseph Estrada's 20 trips during two years in office and is about a third away from Fidel Ramos' 69 trips. At the rate Duterte is going with his presidential foreign trips in his first year, he may even surpass Gloria Macapagal-Arroyo's 127 trips over a 9-year term, the highest among all Philippine presidents after Ferdinand Marcos. All four presidents before Duterte had one thing in common: their most frequented country was the US.
In contrast, Duterte concentrated on visiting Southeast Asia, East Asia, West Asia (Middle East), and Russia. This manifests a foreign policy directed towards maintaining stronger cooperation and integration with the Philippines' neighbors while exploring linkages and/or re-establishing relations with other nations, which may be a good thing in itself. However, what is common to these nations is that they are either supportive of, or silent on, his flagship war on drugs. Specifically, China's explicit support for Duterte's war on drugs, which the US cannot match because of its stance on human rights, makes the China pivot more attractive to him.
"We hope the international community can respect the judicial sovereignty of the Philippines and support its efforts in fighting drug-related crimes through cooperation," said Chinese Foreign Ministry spokesperson Geng Shuang on the 27th session of Universal Periodic Review (UPR), May 8, when 45 of 47 members of the United Nations Human Rights Council (UNHRC) expressed concern over the wave of extrajudicial killings and revival of death penalty in the Philippines.[7] On May 11, at the World Economic Forum (WEF) on ASEAN in Cambodia, Duterte zeroed in on his war on drugs and sought support for his flagship domestic policy: "We need to take a committed stand to dismantle and destroy the illegal drugs trade apparatus. We must reaffirm our commitment to realize a drug-free ASEAN community," he said. And, for the first time in history, the Philippines invoked the much-criticized non-interference principle of ASEAN as Duterte opened the 30th ASEAN Summit in Manila.
Beyond ASEAN, however, Duterte seems to be losing such opportunity on other international platforms, as he was not invited to the G20 meeting of the world's advanced and emerging economies last July 7-8 in Germany, even if it has always been the practice to invite the current Chair of the ASEAN. Presidential Spokesperson Ernesto Abella's response to this snub was that "He [Duterte] is focused on affairs here; he is not necessarily seeking for the approval of others. It's really not the style of the President because we need to run our own economy. Our progress as a nation is not tied to the approval of others. The president is not really the type to ask for that kind of audience."[8]
Economic Diplomacy
The president's trips were celebrated as "victories" by his administration as he secured plenty of cooperation deals and signed a number of Memoranda of Agreement or Understanding, notwithstanding that some were not legally-binding. Duterte's pivot to China and focus on a more economic diplomacy rather than political security were exemplified by his bagging of a total of $24 billion worth of business and financial deals and developmental assistance during his state visit to Beijing, albeit as the Philippine Center for Investigative Journalism (PCIJ) reported, majority of these are concessional and are either tied loans or grants that are currently merely pledges.9 He secured these deals by not invoking the arbitral tribunal landmark ruling that invalidated China's so-called nine-dash line, downplaying the territorial and maritime disputes in the WPS/SCS, and issuing a watered-down ASEAN Chair Statement that was silent on China and its aggressive land-from-sea reclamation and militarization. It even became very apparent that he was not keen on pressuring China on the WPS/SCS issue and even welcomed the Chinese warships docked at Davao's Sasa Port after the ASEAN Summits for a "goodwill visit".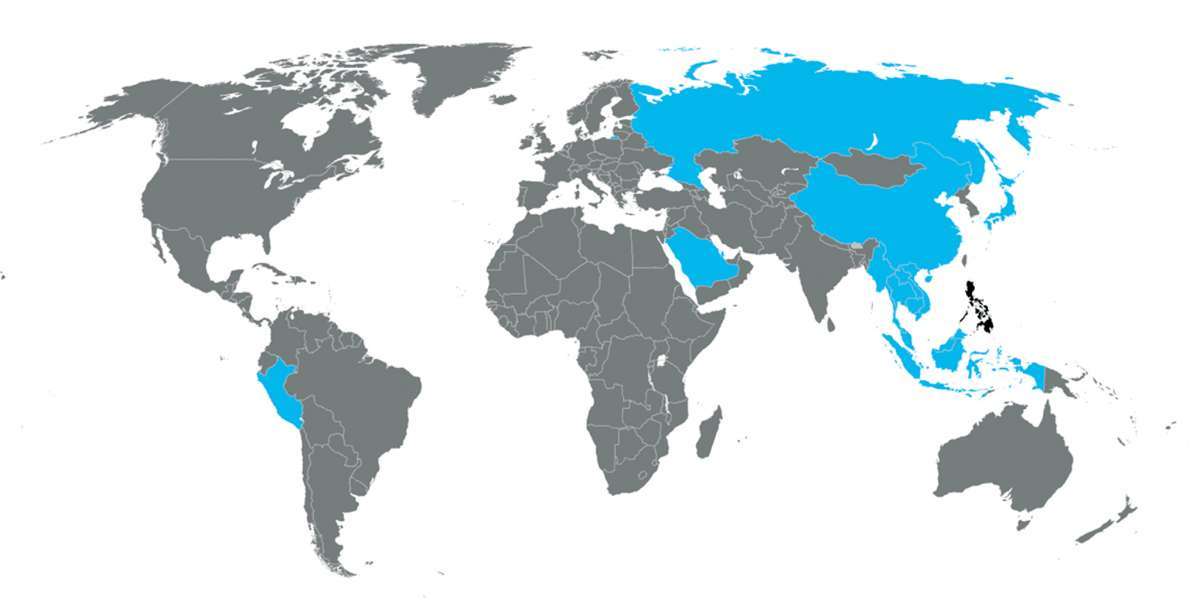 As of June 2017, Duterte has made presidential trips (classified as a state, an official, or a working visit) to sixteen sovereign states internationally. This includes one visit to Bahrain, Brunei, Indonesia, Japan, Laos, Malaysia, Myanmar, Peru, Russia, Qatar, Saudi Arabia, Singapore, and Vietnam and two visits to Cambodia, China, and Thailand. Photo by PatTag2659. (Retrieved from https://commons.wikimedia.org/wiki/File:Duterte_foreign_trips.png), licensed under CC BY 4.0
His May 22-23 official visit to Russia, cut short with the terror attacks in Marawi and his declaration of Martial Law in Mindanao while still in Moscow, produced 10 deals on defense cooperation, intelligence sharing, and the peaceful use of nuclear energy, among others.
China remains the second largest trading partner of the Philippines in 2015 according to the Philippine Statistics Authority, with total trade amounting to $17.646 billion or 13.6 percent of total (but registering a trade deficit of $5.296 billion as exports to China totaled $6.175 billion and imports were valued at $11.471 billion). Japan is the country's top trading partner (total trade worth $18.669 billion or 14.4 percent) and the US is third (12.7 percent or $16.491 billion), with both countries reflecting a trade surplus; $5.932 billion for the former, $1.554 billion for the latter.10 Japan and the US are still the Philippines' major source of foreign direct investments (FDI) and Japan remains the top aid provider for the Philippines, with $5.8 billion in loans, grants, and official development assistance (ODA). Meanwhile, Russia has neither been a considerable source of FDI nor a significant trade partner (less than one percent of total trade).
Recently on June 28, Duterte thanked China for its military aid package of 590 million worth of weapons and ammunitions to fight the ISIS-inspired Maute on top of the 15 million donation for relief and rehabilitation, signaling the reemergence of Sino-Philippine defense cooperation or "the dawn of a new era" in Duterte's own words.[11]
Differentiating Independent from In(depend)ent
While Duterte, in his first year as president, attempted to steer the Philippines to an "independent" path, a critical question is raised: Are we really moving towards a truly sovereign path? A year hence, Duterte's foreign policy seems to point more towards an in(depend)ent rather than an independent path. An assessment of any current foreign policy direction necessitates looking at it through the prism of the Constitution, which states thus:
"Section 2. The Philippines renounces war as an instrument of national policy, adopts the generally accepted principles of international law as part of the law of the land and adheres to the policy of peace, equality, justice, freedom, cooperation, and amity with all nations."
"Section 7. The State shall pursue an independent foreign policy. In its relations with other states, the paramount consideration shall be national sovereignty, territorial integrity, national interest and the right to self-determination."
"Section 8. The Philippines, consistent with the national interest, adopts and pursues a policy of freedom from nuclear weapons in its territory."
"Section 19. The State shall develop a self-reliant and independent national economy effectively controlled by Filipinos."
What should a truly independent foreign policy mean for a developing country like the Philippines, an archipelagic state situated in the geo-strategic, geo-economic, and geo-political Asia-Pacific region, and with a long colonial history that spanned more than three centuries?
In 2011, as part of the Development Round Table Series (DRTS) organized by Focus on the Global South, the Technical Working Group on Alternative Foreign Policy outlined principles that underpinned what the group was advocating for—democratic, principled, independent, and strategic foreign policy.12 In the present context, this should still mean that the Philippines is able to prioritize its national, regional, and global interests, defined as the collective interest of the Filipino people and formulated through a broader participation of the people—a recognition that the charting of an independent foreign policy is not the exclusive concern of the president. A nagging question is how much Duterte is really open to inputs on the foreign affairs agenda, from his own officials, the business sector, the military, the academe, the civil society, and ultimately from the Filipino people themselves. For example, it is a question why the Department of Foreign Affairs budget has been reduced by 4 billion or by 19.9 percent from 2016 to 2017.[13]
An independent foreign policy should not mean abandoning one ally for another, but rather, a careful balancing of international relations while unequivocally renouncing subservience to all countries, even with perceived allies. Economic cooperation, security ties, and alliances with other nations—big or small, superpower or emerging power, from the Global North or Global South—should be based on the principle of mutuality and should be seen as part of the country's long-term vision to attain social justice, sustainable development, and lasting peace. In contrast, a myopic view fixated on seeking legitimacy for Duterte's flagship war on drugs, falling into overdependence on China, and failure to understand the nuances of foreign policy and the complex decisions a head of state must make, especially in crucial times when the country's sovereignty is threatened like in the Marawi crisis and the WPS/SCS maritime dispute, would further impede the Philippines from attaining a sovereign foreign policy.
Roland Simbulan, in his 2008 paper published by Focus on the Global South for the DRTS, reviewed critical issues in Philippine foreign policy. "For a long time already, many Philippine regimes bowed to the impositions of the advocates of imperialism and swallowed the sugarcoated poison of the International Monetary Fund-World Bank (IMF-WB) duo which wreaked havoc to our national economy and has only brought further inequality and poverty to this country. […] Many of our national woes, including foreign debt, widespread poverty, worsening unemployment are caused by having been entangled if not integrated in the structures of an inequitable global economic system where the decisions, activities, and influence of countries with dominant economies and with the greatest influence on institutions like the IMF-WB and the World Trade Organization, impact on our local politics to a great extent," he said.[14]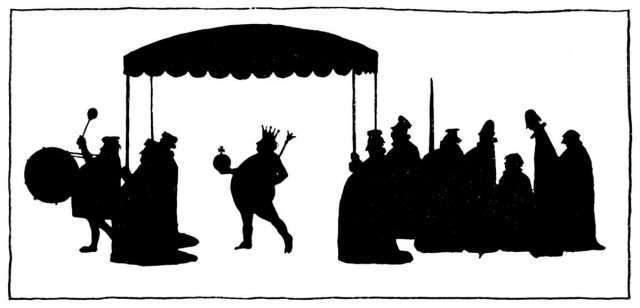 So now the emperor walked under his high canopy. Black and white illustration in Hans Andersen's fairy tales (1913) London: Constable. Illustration by Robinson, William Heath, 1872-1944. (Retrieved from https://commons.wikimedia .org/wiki/File:Page_234_of_ Andersen%27s_fairy_tales_( Robinson).png)
Almost a decade hence, several contending forces continue to influence the Philippines' formulation of a truly sovereign, democratic, and alternative foreign policy. When placed in the much larger context of neocolonialism, imperialist globalization, cultural hegemony, and tug-of-war between major powers, would Duterte's in(depend)ent foreign policy protect the interests of the Filipino people or further undermine Philippine sovereignty? A pivotal moment occurred on September 16, 1991 when the Philippine Senate made the historic decision of rejecting the renewal of the US Subic Naval Base. Other nations such as Vietnam and Cuba with which we have had a shared history were able to assert their national interests and right to self-determination. Will we see these happen under the Duterte administration?
The pendulum of charting an independent foreign policy has swung, yes, but when the dust of Duterte's outbursts, pronouncements, and actions has finally settled, would we finally see the Philippines attaining an independent foreign policy faithful to the spirit with which the provisions in the Constitution were written? Or by this time, would the people have grown weary of Duterte's invectives and empty promises, and eventually realize that the emperor has no clothes?
—————
1 CNN Philippines Staff. (2016 September 8). FULL TEXT: President Rodrigo Duterte's departure speech (ASEAN Summit). CNN Philippines. Retrieved from http://cnnphilippines.com/news/2016/09/06/duterte-departure-for-asean-summit-speech.html
2 Blanchard, Ben. (2016 October 20). Duterte aligns Philippines with China, says U.S. has lost. Reuters. Retrieved from http://www.reuters.com/article/us-china-philippines-idUSKCN12K0AS
3 Phillips, Kristine. (2017 July 22). Philippines's Duterte vows not to come to the U.S.: 'I've seen America, and it's lousy'. The Washington Post. Retrieved from https://www.washingtonpost.com/news/worldviews/wp/2017/07/22/philippines-duterte-vows-to-not-come-to-the-u-s-ive-seen-america-and-its-lousy/?utm_term=.bb903b28562d
4 Macas, Tricia. (2016 October 20). Duterte's economic team clarifies: 'PHL to maintain ties with West, pursue regional integration. GMA News. Retrieved from http://www.gmanetwork.com/news/money/economy/585821/phl-to-maintain-ties-with-west-pursue-regional-integration/story/
5 Diaz, Jess. (2017 April 29). Gov't spending P15.5 B for Asean summit. The Philippine Star. Retrieved from http://www.philstar.com/headlines/2017/04/29/1695002/govt-spending-p15.5-b-asean-summit
6 Official Gazette of the Republic of the Philippines. Presidential Trips: The full list. Retrieved from http://www.officialgazette.gov.ph/presidential-trips/the-foreign-trips-of-the-presidents/
7 Flores, Helen. (2017 May 13). China urges UN to support Philippines' war on drugs. The Philippine Star. Retrieved from http://www.philstar.com/headlines/2017/05/13/1699401/china-urges-un-support-philippines-war-drugs
8 Ranada, Pia. (2017 July 11). Palace on G20 Summit: Duterte doesn't need approval of others. Rappler. Retrieved from http://www.rappler.com/nation/175275-palace-g20-summit-duterte
9 Please refer to the investigative report done by Malou Mangahas, Karol Ilagan, and Kenneth Cardenas of the Philippine Center for Investigative Journalism that was published on May 8 and 9, 2017. The two-part report may be accessed at these links:
(1) http://pcij.org/stories/24-b-not-yet-a-cinch-brokers-stalk-talks-contracting-so-tedious/
(2) http://pcij.org/stories/dutertes-china-deals-dissected/
(3) http://pcij.org/stories/the-philippine-parties-to-dutertes-china-deals/
(4) http://pcij.org/stories/manila-beijing-dating-again-who-is-the-screwer-screwed/
10 Philippine Statistics Authority. (2016 July 15). Foreign Trade Statistics of the Philippines: 2015. Retrieved from https://psa.gov.ph/content/foreign-trade-statistics-philippines-2015
11 Ho, Alex. (2017 June 30). Duterte thanks China for firearms, ammo vs Mautes. CNN Philippines. Retrieved from http://cnnphilippines.com/news/2017/06/29/Duterte-thanks-China-for-military-aid-vs-Mautes.html
12 Fabros, Corazon. (2011 December). Foreign Policy and the Visiting Forces Agreement. Crossroads: Focus on the Philippines 2011 Yearbook. Published by Focus on the Global South Philippines Programme. Quezon City, Philippines.
13 Department of Budget and Management. Volume II of the National Expenditure Program 2017. Retrieved from http://www.dbm.gov.ph/wp-content/uploads/NEP2017/NEP%202017-VOLUME%20II.pdf
14 Simbulan, Roland. (2008 September 16). Reviewing Critical Issues in Philippine Foreign and Security Policies: Towards an Assessment of the Visiting Forces Agreement. Development Roundtable Series. Published by Focus on the Global South Philippines Programme. Quezon City, Philippines.