(05 June 2007. Rostock)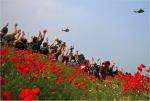 An impressive number of around 80,000 people marched in the city of Rostock in Northern Germany Saturday to kick off week-long protest actions against the G8 and its policies that wreak havoc on the world's poor.The protestors came in droves oftentimes in small groups, wearing anti-G8 t-shirts carrying banners and various paraphernalia, waving flags to march in solidarity with one another united by the common thread of resistance to the kind of development being promoted by the rich countries, The kind of development that undermine peoples rights and livelihoods, promote wars and conflicts, destroys the environment, and threaten indigenous cultures around the world.

The manifestation Saturday brought together a colorful mix of groups and movements. The mobilization became a platform for the articulation of such diverse issues as genetically engineered food to the destruction of fisheries resources. There were people fighting for the rights of workers of migrants, of women, of gay and lesbians. There were groups demanding greater access for the poor to life-saving medicines. There were anti-globalization activist calling on world leaders to stop, rethink and resist economic partnership agreements (EPAs) and free trade agreements (FTAs).
On Sunday, another mobilization took place led by the international peasant group Via Campesina around the issue of food and agriculture. Paul Nicholson of Via Campesina described the action that brought together close to 5,000 people as "happy and good".
Festive in fact is the word that comes to mind to describe the actions in Rostock so far. The marches have been full of creativity and humor in fact.
Aside from the usual parade of colorful flags and banners, there was a whole range of campaign props from "higantes"-giant effigies depicting the G8 leaders, to people in chicken costumes, to clowns blowing bubbles along the police lines. The actions have also been full of music, with concerts capping the marches.
The "happy" atmosphere however belies the increasing tension here between the police and the protestors in general. The whole city has been transformed into a kind of police state. One can feel the overwhelming presence of the police everywhere from the market and commercial district to the camps. People are randomly checked, their bags searched and documents scrutinized.
The confrontations that happened at Saturday's march, where sporadic clashes between the police and protestors resulted to injuries on both sides and hundreds of arrest, have been used as a pretext for heightened security. As the official summit is set to open tomorrow, these security measures are expected to intensify as the people gear up for more protest actions.