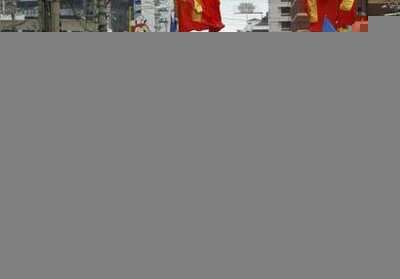 PRESS RELEASE
13 January 2008
'SEVER TIES WITH WAR CRIMINALS' SAYS GROUP
Carrying a giant eviction order and a mock padlock, the broad anti-war group, Stop the War Coalition-Philippines, went to the Israeli embassy today to symbolically order its closure.
The group sought to express its opposition to Israel's ongoing aggression in Gaza which has already killed more than 800 people, a third of which are children.
The coalition had earlier called for the Philippine government to sever its ties with Israel and to expel the Israel ambassador to express its rejection of Israel's aggression in Gaza.
For three weeks, Israeli bombs and rockets have pounded the Gaza strip placing almost 1.5 million fearing for their lives and have shunned initiatives by the international community to put an end to the attacks.
"We want to drive home the point that no country and no people should tolerate Israel's barbarity," said Atty Corazon Fabros, one of the group's spokespersons.
"Israel is guilty of war crimes and we should not have diplomatic relations with criminals," she added. "The world has to sanction and isolate Israel otherwise its mass murder of the Palestinians will continue."
Israel, the group says, is guilty of violations of international law such as collective punishment, targeting of civilians, and disproportionate military response.
"The embassy should only be re-opened and diplomatic ties should only be restored once Israel complies with international law," said Fabros.
Stop the War Coalition-Philippines is a coalition of over 50 organizations and networks.#
CONTACT:
Cora Fabros: (0917) 8871153 // Dj Janier (0926)4263516