by Parth M.N
This article is from ruralindiaonline.org; Photos courtesy: Srijan Lokhit Samiti
Under normal circumstances, someone who has endured the trauma of displacement twice would shudder to think of another such prospect. Not if you are a resident of Chilika Daad village in the Sonbhadra district of Uttar Pradesh. "We breathe coal particles, not air," said 62-year-old Ramshubhag Shukla as he sat in the verandah of his house in Chilika Daad. A mountain of coal overburden – its height above the acceptable height – was the immediate spectacle.
The Ministry of Environment and Forest deems it mandatory that the mine site be 500 meters away from the village, thus the mine site of Northern Coalfields Limited (NCL) is accordingly situated considering the location of Chilika Daad. However, the residents don't get the opportuntity to feel this distance. The haul road used for the transportation of coal dumpers is precariously constructed within 50 meters north of Chilika Daad. The coal handling plant is situated where the village ends, in the east. And the coal-dumping yard covers the west. Further, a narrow underpass is the only accessible road to the village, which is overrun by a railway line that transports coal. Heaps of coal overburden, which we mistook for a mountain range in the fading light of 7 PM, is one of the first views one encounters on entering the village.
"We are a unique example in a sense," Shukla chuckled regretfully.
The dumpers transporting coal on the haul road appear to be passionate and disciplined. "They do not even take a break on government holidays and Sundays," said Shukla. "We bear the noise of blasting that happens twice a day. The constant traffic of dumpers moving with coal causes unbearable coal pollution. We desperately need rehabilitation".
Chilika Daad consists of around 800 families who have been displaced twice because of developmental activities in the Singrauli region, spread across Singrauli district in Madhya Pradesh and Sonbhadra district in Uttar Pradesh.
In1960, eight-year-old Ramshubhag Shukla was first displaced by Rihand Dam from Renukat to Shaktinagar village. In 1975, The National Thermal Power Corporation (NTPC) installed its Shaktinagar power plant, which drove him out of there and NTPC resettled him in Chilika Daad in 1977.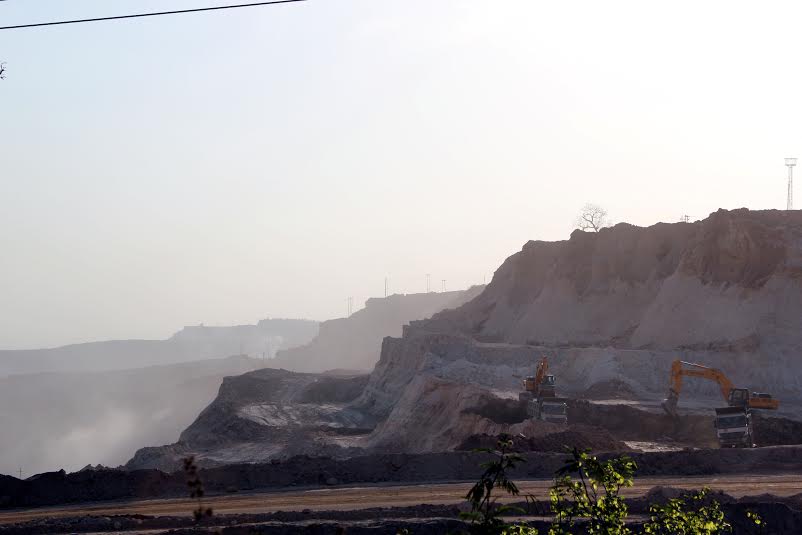 "When we first came here, the place was surrounded by forested mountains. The pleasant environment, fresh air and cheerful nature made our mornings blissful," said Shukla. About four years later, NCL began its Khadia mining project amidst protests from locals. Eventually, the protests succumbed to government plans.
"Initially it was alright. The pollution increased considerably in the last 10 years but the last four years have been unbearable", said Shukla. "Now all that we encounter is coal". Exactly how bad is the pollution? "Keep a mirror out in the open. You would not be able to see your face in it after 20 minutes. It is so dusty," he responded promptly, putting an end to our skepticism, if any.
The consequences of the devastation of environment have been severe, drastically increasing the airborne and waterborne diseases. "My four-year-old grandson has breathing problems," explained Shukla. "Frequency of cancer, bronchial ailments, mental illnesses, tuberculosis, lung infections, skin disorders has gone up. Recently a three-year-old was diagnosed with diabetes."
"Since the stack of coal overburden overlooks the village, residents dread the monsoons. "Heavy rain carries the coal waste along. The contaminated water flows through the village, forcing water infections," said Shukla's neighbor, Ram Pratap Mishra, 47, adding the issue of temperament. "Seldom did we witness any bickering among villagers", he said. "But in the last three-four years, people have become short tempered. Sometimes, even non-issues lead to serious altercations".
About 30 per cent of the villagers in Chilika Daad depend on milk products. Unfortunately, the environmental pollution believes in equality. Cows and buffaloes, just like human beings, have not escaped its ramifications. 61-year-old Panna Lal, who has been in this business for nearly half-a-century, said, "Untimely births and miscarriages have magnified, rupturing the natural cycle." These have hampered the quality of milk products.
Presence of developmental projects in Singrauli has resulted in the farmers surrendering their land, thereby reducing agricultural activities. Consequentially, cattle-food has become scarce. "Earlier, we would get it in abundance at no cost from the nearby farmlands. Now we have to shell out money for that," Panna Lal added. Locals who rely on milk products to satisfy their needs have started thinking about other sources to generate income. "We had 35 cows and 12 buffaloes when I was a kid. Now all I have is one cow and one buffalo. The monetary losses have become unsustainable," he said.
Moreover, health care in an area as vulnerable as Chilika Daad is virtually nonexistent. "Health facilities should be optimum in an ailment prone area like this," opined Mishra. "Sadly, it is zero. We have to run around for any kind of treatment."
The Singrauli region has a deluge of thermal power plants and mine reserves. As a result, the region has witnessed a cascade of displacement. Those who forfeited their land for the 'development projects' have suffered the most, having lost their traditional livelihoods for little in return. Since it is a powerhub, one would imagine Singrauli to be prosperous. Ironically, the region is poor and the rehabilitation of displaced has been shoddy, lacking in basic facilities like health, education, clean water and electricity. A Greenpeace fact-finding report on Singrauli is titled,'Singrauli: The Coal Curse'.
"In the 50 kilometers air range of Singrauli region, 20,000 megawatts of power is created," said Girish Dwivedi, a member of the BJP state working committee. "One cannot underestimate the importance of these projects. However, there is no doubt that the rehabilitation could have been better."
The companies in the region have provided jobs to some of the project affected families. But most of the other youngsters in the village work as bonded laborers with contractors, said Shukla, whose son works in extracting the overburden. Avadhesh Kumar, a much-revered activist of Singrauli, said, "Those are all temporary jobs. They can be jobless anytime."
Singrauli region is promoted as India's energy capital that lights up cities and provides power to industries. In this context, the paradox is striking. Chilika Daad gave an impression of midnight at 8 PM. We used the light of mobile phones while scribbling in the notepad. However, that did not stop Shukla's wife from offering us refreshing tea and snacks. Her movements indicated that it was just another day in Chilika Daad. "Not more than eight hours," Shukla said when asked about the amount of electricity they get per day. "It has been like that for years."
In 2011, The Centre for Science and Environment conducted a study by collecting samples of water, soil, cereals and fish from Sonbhadra, and blood, hair and nails of people living there, which found that the mercury levels in the environment of the district to be dangerously high.
But now, Shukla seems to have had enough of it. "The administration must do something. At least my grandson's generation should live peacefully," he said.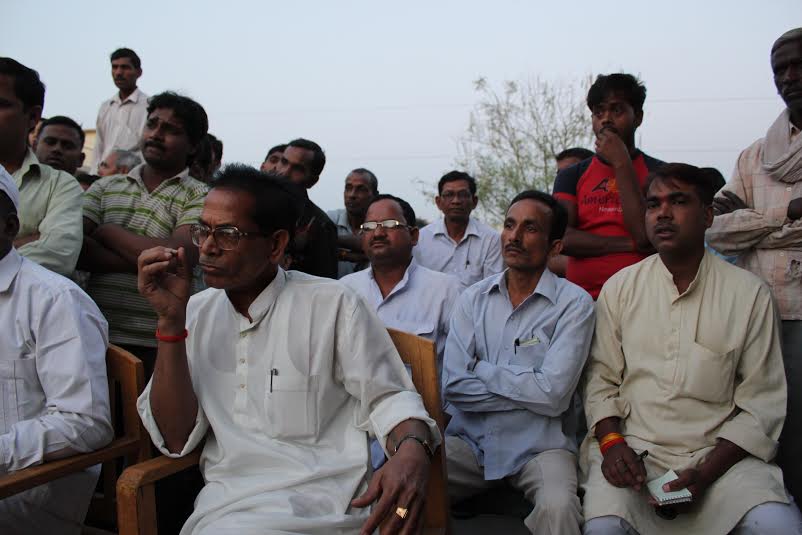 However, the Sub Divisional Magistrate of Sonbhadra, Abhay Kumar Pandey, shrugged off responsibility. "What can we do? It is a matter between the locals and the company."
"The whole discourse in this region is dictated by bigwigs," said Kumar. "The companies have destroyed the environment, agreed. But the government gives them the right to do it."
Chhote Lal Kharwar, BJP's Member of Parliament from that region, said he has "never visited the village" but if locals explain their difficulties to him in person, he will "look into the matter."
Mishra said, "They are all hand in glove. Governments keep changing but nobody has extended any kind of support. All the opulent industrialists own these big budget projects. But money cannot get back our rivers, lakes, forests that they have obliterated."
It was well past dinner time now and the lights came on just as we concluded the conversation. We embarked on our return journey while Shukla, Panna Lal and Mishra resumed their life in the eternal company of coal.