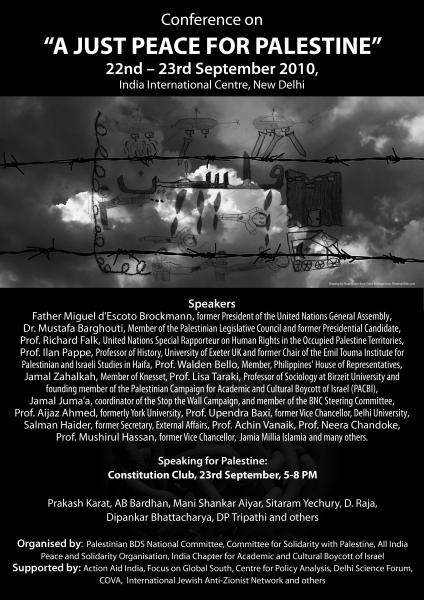 Israel's attack on the Freedom Flotilla on 31 May 2010, in light of its deadly siege on Gaza, was an urgent call to the international community to force Israel to comply with her obligations under international law. Israel's latest atrocities must be seen in the context of decades of Israeli impunity, and ongoing Israeli policies of the Judaization of Jerusalem, the ethnic cleaning in the Naqab (Negev), the continued construction of settlements and the Wall. The international community's response to the attacks through storms of protests and boycott, divestment and sanctions initiatives has sent a strong message. In light of Israel's complete disregard of humanitarian law and international appeals, international civil society must undertake the task of holding Israel accountable for its egregious acts of violence and violations of law.
Israel's Flotilla Massacre has been met with international sanctions including Nicaragua's suspension of diplomatic relations with Israel; South Africa and Turkey recalling their respective ambassadors from Tel Aviv, as well as a unanimous call in the Turkish parliament to "revise the political, military and economic relations with Israel" and to "seek justice against Israel through national and international legal authorities." Further, Norway's minister of education and head of the Socialist Left party, Kristin Halvorsen, reconfirmed Norway's arms ban on Israel and called all other states to "follow the Norwegian position which excludes trading arms with Israel."
Whereas the unconditional support given to Israel over the decades by the international community to protect it from being held accountable, or indeed criticized, is showing cracks, the US government has refused to condemn Israel's lethal attack on the Freedom Flotilla. Instead, the US renewed its support for Israel's policies through President Obama's pledge to give $30 billion in military aid to Israel over the next 10 years. The Indian government, which had a tradition of support for the Palestinian people's rights, issued a statement of condemnation of Israel's 'indiscriminate use of force,' but being Israel's biggest military buyer, it has taken no decision to review its arms trade with Israel.
What can people of conscience, those believing in peace and justice, do about this burning issue? How can we stand in solidarity with the people of Palestine? Can the people of India stand together to pressure our government to act in line with the principles on which we founded our own independence from colonialism? How can we as people – and movements from across Asia – work together and join hands with solidarity action worldwide to hold Israel accountable for its violations of Palestinians' rights?
In cooperation with the Palestinian Boycott Divestments Sanctions National Committee (BNC), a group of Indian activists and intellectuals initiated a conference on the issue of Palestine, in New Delhi, on September 22nd-23rd. The conference seeks to mobilize all those involved in people's movements for a just and equitable world across India and the region to collectively work and build a solidarity campaign for the liberation of Palestinian lands from Israeli occupation, self-determination and equality for all Palestinians and the right of return of Palestinian refugees.
India, and the region, has historically played a key role in garnering international support for Palestine, the South African anti-apartheid struggle and other anti-colonial struggles. We believe that countries representing the non-aligned movement, with their proud de-colonisation history, should once again play a key role in the struggle for justice and against Israel's occupation, colonization, and apartheid policies.
The Conference aims to mobilize activists in people's movements around Palestinian rights, develop an effective strategy for solidarity with Palestine, connect to policy makers and activists in the region, to inform the people about the current situation in Palestine, and to build and strengthen campaigns targeting companies and institutions that are complicit in Israel's occupation, colonization and apartheid policies.
Participating in the conference will be a number of prominent activists including Father Miguel d'Escoto Brockmann, former President of the 63rd session of the United Nations General Assembly, Mustafa Barghouti, Member of the Palestinian Legislative Council, and Chairman of the Palestinian National Initiative and Candidate for the Presidency of Palestinian Authority in 2005, Richard Falk, Professor Emeritus of International Law at Princeton University and United Nations Special Rapporteur on Human Rights in the Occupied Palestine Territories, Ilan Pappe, Professor of History at the University of Exeter UK and former Chair of the Emil Touma Institute for Palestinian and Israeli Studies in Haifa, Walden Bello, Member, Philippines' House of Representatives and Chair of Akbayan, Lisa Taraki, Professor of Sociology at Birzeit University and founding member of the Palestinian Campaign for Academic and Cultural Boycott of Israel (PACBI), Jamal Juma'a, coordinator of the Stop the Wall Campaign, and member of the BNC Steering Committee.
Many other distinguished participants from occupied Palestine, and other Asian countries will be attending the conference, in addition to activists from the region.
We call upon all activists and people of conscience committed to building a united and broad-based campaign for the freedom of Palestine to be part of the deliberations of this important conference.
In solidarity,
Organizing Committee
Kamal Mitra Chenoy, Meena Menon, Seema Mustafa, Prabir Purkayastha, Mohan Rao, Pallab Sengupta
Programme Committee
Aijaz Ahmed, Subhashini Ali, Hind Awwad, Walden Bello, Uma Chakravarthy, Farida Khan, B.R. Muthu Kumar, Saeed Mirza, Manoranjan Mohanty, Prabhat Patnaik, S.P.Shukla, Lisa Taraki, Farooq Tariq, Achin Vanaik, Hanin Zoabi
Media Committee
Ginu Zachariah (Convener) 9650366746; [email protected]
Aditi Bhaduri – 09830244549; [email protected]
Amitabh Singh – 981896968; [email protected]
Najeeb Mubarki – 9891406418; [email protected]
Zafar Agha – 9810934749; [email protected]

Brief Profile of International Speakers
Mustafa Barghouti
A medical doctor, Member, Palestinian Legislative Council, Chairman, Palestinian National Initiative and Candidate for the Presidency of Palestinian Authority in 2005. In 1979, Barghouti founded the Union of Palestinian Medical Relief Committees, a non-governmental organization which provides health care and related services in the West Bank and Gaza Strip and continues to serve as its president. In 1989, he was one of the founders of the Health, Development, Information and Policy Institute, a think-tank representing an alliance of 90 Palestinian community organizations. He was nominated for the 2010 Nobel Peace Prize.
Father Miguel d'Escoto Brockmann
Father Brockman served as the Republic of Nicaragua's Minister for Foreign Affairs, from July 1979 to April 1990. He is currently Senior Adviser on Foreign Affairs, with the rank of Minister, to President Daniel Ortega Saavedra. In June of 2008, Father Brockman was elected President of the 63rd session of the UN General Assembly, a post he held from September 2008-September 2009. He also spearheaded the Assembly's efforts to put an end to Israel's Operation Cast Lead against Gaza in late December and January 2009. In June 2010, Father Miguel was unanimously elected as a member to the Advisory Committee of the UN Human Rights Council in Geneva. He is the recipient of numerous awards, such as the Order of Cardinal Miguel Obando Bravo (2007), the highest honour awarded by the Catholic University Redemptoris Mater (UNICA).
Richard Falk
Professor Emeritus of International Law, Princeton University and United Nations Special Rapporteur on Occupied Palestine Territories. Prof.Falk is a member of the Editorial Boards of The Nation and The Progressive, and Chair of the Board of the Nuclear Age Peace Foundation. During 1999–2000, Falk worked on the Independent International Commission on Kosovo. In 2001 he served as the United Nations High Commissioner for Human Rights (OHCHR) Inquiry Commission for the Palestinian territories with John Dugard and Kamal Hussein. In March 2008, the United Nations Human Rights Council (UNHCR) appointed Falk to a six-year term as a United Nations Special Rapporteur on the situation of human rights in the Palestinian territories occupied since 1967.
Jamal Juma'
Co-ordinator of the Stop the Wall Campaign, and member, Steering Committee, BNC, Palestine. He is a founding member of the Palestinian Agricultural Relief Committees, Palestinian Association for Cultural Exchange and Palestinian Environmental NGO Network. Juma' is since 2002 the coordinator of the Palestinian Grassroots Anti-Apartheid Wall Campaign. He has been invited to address numerous civil society and UN conferences, where he has spoken on the issue of Palestine and the Apartheid Wall. His articles and interviews are widely disseminated and translated into several languages.
Ilan Pappe
Professor of History, University of Exeter, UK, and co-director of the Exeter Centre for Ethno-Political Studies. Pappe was formerly a senior lecturer in political science at the University of Haifa, and chair of the Emil Touma Institute for Palestinian and Israeli Studies in Haifa (2000–2008). He is the author of The Ethnic Cleansing of Palestine (2006), The Modern Middle East (2005), A History of Modern Palestine: One Land, Two Peoples (2003), and Britain and the Arab-Israeli Conflict (1988). He was formerly a leading member of Hadash, and was a candidate on the party list in the 1996 and 1999 Knesset elections.
Lisa Taraki
Lisa Taraki is a sociologist at Birzeit University in Palestine. In addition to her academic work on aspects of Palestinian society, politics and urban social history, she has been an activist in the struggle for the right to education in Palestine since the late 1970s. She is one of the founders of the Palestinian Campaign for the Academic and Cultural Boycott of Israel (PACBI), established in Ramallah in 2004.
Jamal Zahalka
Serves as a member of the Knesset representing the Balad party. He is a member of the political leadership of Balad – The National Democratic Assembly in the Israeli Knesset (Parliament). Dr. Zahalka was one of the leaders and founders of the anti-occupation movement within the Green Line in the 1980s, and was imprisoned in 1972 for 2 years for his politics. He is the Former General Director of the AHALI Center for Community Development, and a member of Education and Culture Committee, The Science and Technology Committee, and the Committee for War Against Drugs in the Knesset. Dr. Zahalka works as a pharmacist.
Mordecai Briemberg
Dr. Mordecai Briemberg of the Canada- Palestine Support Network (Canpalnet), began his distinguished academic career at Oxford University where he studied under the renowned philosopher Sir Isiah Berlin. He did his PhD at the University of Berkeley and was at the Simon Fraser University, British Columbia, where he was the Chair of the Department of Political Science, Sociology and Anthropology till his retirement. He has also been a journalist and radio broadcaster. In 2008 he was awarded the YMCA "International Peacemaker" award for his advocacy of a just solution to the Israel/Palestine conflict.
Walden Bello
Member, Philippines' House of Representatives and Chair of Akbayan and Professor of Sociology at the University of the Philippines, in 1995, he co-founded Focus on the Global South, a policy research analysis organisation. He is also member and former Chair of the board of Greenpeace South East Asia and is board member of Food First, the International Forum on Globalisation, and the Transnational Institute. He is currently a columnist for the Philippine Daily Inquirer and Foreign Policy in Focus. He won the New California Media Award for Best International Reporting in 1998. Bello was awarded South Korea's Suh Sang Don Prize in 2001 and in 2003, was given the Right Livelihood Award, also known as the Alternative Nobel Prize. He has also served as visiting professor at the University of California at Los Angeles (2002), UC Irvine (2006), and UC Santa Barbara (2006). He was Chancellor's Fellow at UC Irvine in 2004 and was awarded an honorary PhD by Panteion University in Athens, Greece, in 2005.
K. P.Olli is former deputy Prime Minister of Nepal and a senior leader of CPN(UML).
Nalan Dal is with IHH, Turket and was on the Flotilla.
Azril Mohamad Amin is a prominent lawyer, activist and human rights advocate. He is the winner of Chevening Award.
Manzurul Ahsan Khan
President, Communist Party of Bangladesh. While still a student he also started party and trade union activity amongst industrial workers. He was elected President of Ujala Match Factory Workers Union, General Secretary Hotel Intercontinental Workers Union, Chairman All Pakistan Hotel Intercontinental Workers Federation and President of Dhaka District Road Transport Workers Union. Was one of the founders of Bangladesh Trade Union Kendra, a national trade union federation and Udichi Shilpi Goshti, a progressive national cultural organization. He participated in the liberation war as a Commander of special Guerilla Force organized jointly by the CPB, NAP and Bangladesh Students Union. Manzur was also elected joint secretary of Bangladesh Trade Union Kendra and led many trade union and political movement and was arrested several times or forced underground. When Soviet Union was dissolved and a certain section of CPB leadership wanted to liquidate the party MAK fought in the fore in defense of Marxism-Leninism and the Communist Party.Comrade Manzur is presidium member of Bangladesh Peace Council.
Rashed Khan Menon joined politics through anti-martial law student movement of 1962, rising to the leadership of student movement through education movement and anti-autocratic movement against regime of Ayub Khan, military ruler of Pakistan. Revived East Pakistan Students Union, the left student organization in 1962 and was its publicity secretary, vice-president and twice President from 1962-67. Was Vice-President of Dhaka University Central Student's Union (DUCSU) in 1963-64.
Menon was underground and organized peasant groups for resistance immediately after the Pakistani genocide of 1971 from Shibpur, Dhaka that remained beyond Pakistani control during the nine months of Liberation War. Went to India in May and along with other left and democratic parties formed the Co-ordination Committee for the Liberation of Bangladesh in June 1971. Was elected as President of the Workers Party of Bangladesh in the sixth congress of the Party in 2000 and was re-elected to the post again in the seventh & eighth congress of the Party in 2005. Elected as Member of Parliament from Dhaka City constituency from grand alliance led by Sk. Hasina in last Election. Currently, a member of the special Committee to amend the constitution and also the Chairman of the Parliamentary Standing Committee on Education.
Contact details:
c/o Centre for Policy Analysis, E-1, 2nd Floor, Green Park Extension, New Delhi – 110016, Ph: – + 91 -11-26525916. E-mail:- [email protected] / [email protected]