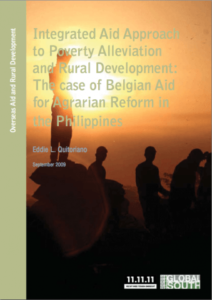 02/12/2011
Under: Publications, The Commons


The
Overseas Aid and Agrarian Reform Working Papers Series
is a joint research initiative and publication of the Belgian Alliance of North-South Movements (11.11.11) and the Focus on the Global South-Philippines. Activist researchers from various non-governmental research institutions have come together to carry out this collective undertaking.
To date, three out of four poor people in the Philippines are rural poor. Land remains central to their autonomy and capacity to construct, sustain and defend their livelihoods, social inclusion and political empowerment. But to a large extent, land remains under the monopoly control of the landed classes in the country, while in many parts of the country poor peoples' access to land is seriously threatened by neoliberal policies. This is despite two decades of land redistribution, with relatively modest accomplishment, under the Comprehensive Agrarian Reform Program (CARP). The mainstream development policy community has taken a keen interest in land in recent years, developing land policies to guide their intervention in developing countries, including the Philippines. Internationally, while generally well-intentioned, not all of these land policies advance the interest of the rural poor. In fact, in other settings, these may harm the interest of the poor. Widespread privatization of land resources facilitates the monopoly control of landed and corporate interests in such settings. Local, national and transnational rural social movements and civil society networks and coalition have taken the struggle for land onto global arenas of policy making. In the Philippines, CARP has been the focus of overseas development assistance around land since the mid-1980s. Huge amounts of money, both aid and loans, went to various projects directly and indirectly linked to agrarian reform. Except for occasional officially commissioned project evaluation studies, there has been no systematic and comprehensive critical examination of such development intervention in the Philippine countryside. This is perhaps one reason why the advocacy work of autonomous rural social movements in the Philippines around the issue of overseas development assistance and land reform has been quite unsystematic and ad hoc at best.
It is in the context of providing modest assistance to rural social movements and other civil society groups that are engaged in land reform campaign that this research has been undertaken and the working paper series launched. It aims to provide a one-stop resource to activists engaged in local and national campaigns for progressive land policy reforms. The research covers analysis of the policies of the following institutions and themes: (1) World Bank, (2) European Union; (3) International Fund for Agricultural Development (IFAD); (4) Belgian Development Aid; (6) Canadian International Development Assistance (CIDA), (7) Japanese aid, (8) Asian Development Bank (ADB), (9) a Mindanao-focused study covering various aid agencies, and (9) an overview analytical paper that covers the remainder of aid agencies (FAO, UNDP, AusAid, GTZ, USAID) and links the various findings to the broader issue of agrarian transformation and development in the Philippine countryside.
The research is coordinated, and the working paper series edited, by Jun Borras, Jennifer Franco, Mary Ann Manahan, and Eduardo C. Tadem.
About the Coordinators/Editors
Saturnino M. Borras Jr. is professor at the Institute of Social Studies in the Hague, Netherlands and editor of the Journal of Peasant Studies. He has been deeply involved in agrarian movements in the Philippines and internationally since the early 1980s. His books include Competing Views and Strategies on Agrarian Reform: Volume 1, International Perspective; and Volume 2: Philippine Perspectives. Quezon City: Ateneo de Manila University Press
Jennifer C. Franco is an independent researcher who is currently coordinating the cross-national comparative research on biofuels of the Amsterdam-based Transnational Institute (TNI). Her research interests include land reform, peasant movements and democratization. She is author of the book Campaigning for Democracy: Grassroots Citizenship Movements, Less-Than-Democratic Elections, and Regime Transition in the Philippines. Quezon City: Institute for Popular Democracy.
Mary Ann Manahan is a research associate and campaigner with Focus on the Global South, Philippines Programme. She works on the commons, particularly on land and water issues. She is also a member of the Land Research Action Network (LRAN), a group of activist researchers monitoring land and agrarian issues that works closely with rural social movements in the Philippines and internationally.
Eduardo C. Tadem is Professor of Asian Studies at the University of the Philippines, Diliman. He holds a Ph.D in Southeast Asian Studies from the National University of Singapore. He has researched and published extensively on the political economy of foreign aid, agrarian reform and rural development, industry studies, regional development, rural unrest and social movements, Philippine‑Japan relations, conflicts over natural resources, international labor migration, foreign investments, and contemporary politics. His most recent publications are: "The Filipino Peasant in the Modern World." Philippine Political Science Journal, 30(53) 2009;  "Reconstructing Peasant Lives in Central Luzon: The View from Below," Social Science Diliman, 4(1 1&2), January-December 2007 ; "Marxism, the Peasantry and Agrarian Revolution in the Philippines," in Marxism in the Philippines: Part Three, Anvil Publications and Third World Studies Center, UP, 2009 (forthcoming); "Philippine Rural Development and Indigenous Communities: Aytas and the Sacobia Project," Alaya: Kapampangan Research Journal, volume 4, December 2006.
About the Initiators/Publishers
11.11.11 is a coalition of the Flemish North-South Movements. It combines the efforts of 90 organizations and 375 committees of volunteers who work together to achieve one common goal: a fairer world without poverty. For more information, visit: http://www.11.be.
Focus on the Global South is a non-governmental organization with country programs in Thailand, the Philippines and India. Focus was established in Bangkok in 1995 and is affiliated with the Chulalongkorn University Social Research Institute. Focus combines policy research, advocacy, activism, and grassroots capacity building in order to generate critical analysis and encourage debates on national and international policies related to corporate-led globalization, deglobalization, neoliberalism and militarization. For more information about Focus, visit: http://www.focusweb.org.
Downloads:
BELGIAN-AID-Quitoriano.pdf
EU-Javier-delaRosa.pdf
INTL-FUND-Tadem-Macarambon.pdf
JAPANS-AID-Feranil-Feranil.pdf
MINDANAO-Quitoriano.pdf
WORLDBANK-Boras-Carranza-Franco-Manahan.pdf
Uploaded 2 December 2011